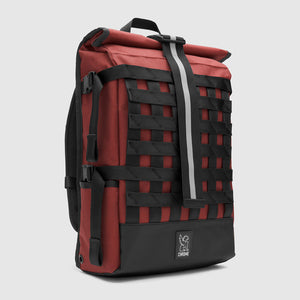 品牌:CHROME
型号:BARRAGE CARG
尺寸:22L/15",30x53x14cm 可容纳15寸电脑
介绍:
THIS ITEM IS CURRENTLY OUT OF STOCK.
GET NOTIFIED WHEN AVAILABLE (REQUIRES LOGIN)
Our compact 100% Welded-Waterproof Rolltop with versatile cargo net compression system and iconic seatbelt buckle. Made in USA. Guaranteed for Life.
PRODUCT DETAILS
There is only one way to make a bag truly waterproof – by welding its seams. For the Barrage Rolltop we combined a Welded-Waterproof floating bucket with an abrasion resistant CORDURA® Brand grade outer shell to make the toughest waterproof rolltop possible. It features a low-profile design and side compression straps for load stabilization and increased visibility, an external cargo net to haul gear on the outside, and a Welded-Waterproof bucket liner that can keep personal items bone dry in any weather. The Barrage adapts to accommodate a range of cargo. The main compartment expands from 22L to 34L and features an expandable cargo net with compression straps for securing various cargo shapes and sizes. Each Barrage is made with military grade materials and specifications. The 100% Welded-Waterproof bucket liner is made with 600 denier truck tarpaulin. The abrasion resistant outer shell is made with 1000 denier CORDURA® Brand grade Nylon. Like all our bags, the Barrage is Guaranteed for Life.
FIT:
• Ergonomic shoulder strap design with EVA foam back panel for improved fit and breathability
• Sternum strap with iconic mini seatbelt buckle for load distribution
• Industrial metal cam lock under arm compression buckle
SPECS:
Dimensions: 11.5" wide, 20" high, 5.5" deep
Volume: 22-34 L
Weight: 0 lb
FEATURES:
• Adjustable external 5-point cargo net system for storing / transporting helmet, wet race gear, or shoes
• Waterproof rolltop closure accommodates a range of load sizes
• Dual compartments separate wet/dry cargo
• Industrial strength Velcro accessory shoulder mounting straps
• Easy access side U-Lock/Waterbottle pockets
• Interior sleeve pocket fits 15" Macbook Pro (laptop sleeve recommended)
FABRICATION:
• Abrasion resistant Weatherproof 1000 denier CORDURA® Brand grade nylon outer shell
• Welded-Waterproof 600 denier military grade truck tarpaulin liner
↓↓↓黑↓↓↓
↓↓↓砖红↓↓↓
↓↓↓靛蓝↓↓↓
↓↓↓丛林绿↓↓↓