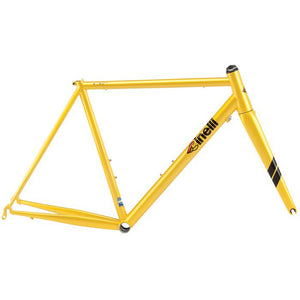 Steel is back with this competition frame made with Columbus Spirit super oversize triple-butted tubes. The Tig welding technique enhances the possibility of making custom geometries and increases the frame stiffness. Steel, contemporary like never before.
The Nemo sleeve with integrated seat clamp connects at the best the top & seat tubes to the rear stays for a better stress distribution and resistance of the frame.
The 1.5" tapered head tube with the Columbus monocoque FEL fork increases the reactivity of the frame and the handling of the bike..
The new steel dropouts connect at the best the rear stays matching all the angles  of different sizes, offering an ideal weld surface of the stays avoiding any stress concentration.
- Completely hand built, in Italy. Custom sizes available.
Colour: Purple Haze - Yellow Moon - Silver Bullet - Black Dog - Cherry Bomb
Sizes: XS (48) - S (51) - M (54) - L (56) - XL (59) - XXL (61)
Tube set: Columbus Spirit
Frame weight: 1800 g
Bottom bracket threading: Press Fit 86,5 mm
Seatpost diameter: Ø 27,2 mm
Front derailleur: Clamp-On
Cable routing: External
Fork: Columbus FEL 1-1/8" - 1-1/2" Monocoque
Fork weight: 350 g
Please contact us for colors and sizes