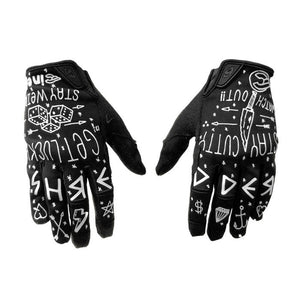 WINGEDSTORE teamed up with Cinelli Mash rider and founder of TCB Courier Service Chas Christiansen to design the 'Shredder' GIRO DND Gloves x Cinelli. The glove is part of the Rider Collection series.
Technical info: The DND™ (Down And Dirty) is all about the essentials – fit, durability, and control - and built to be affordable and long-wearing. It offers a supple feel at the bars thanks to the Super Fit™ engineered AX Suede™ palm that eliminates excess material and bunching, with a breathable, 4-way stretch upper for maximum comfort. Fingertip feature that works with smartphone touch screen.
Gloves have a special fingertip that works with your smart phone touch screen.