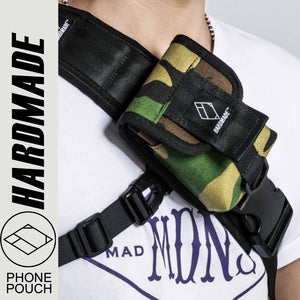 Make an article



HARDMADE NEW PHONE BAG

With Pro3 research and development launched

DuPont 1000D PU2 fabric is used for fabric.

Matched with truck grade waterproof PVC awning.

Small cell phone bags are used in every space.

Pioneer headphone plug-in storage system

And the size is just enough, either with the HARDMADE postage bag.

Or simply for the waist also highlights the excellent functionality.



Introduction



The NO.1 mobile phone bag is a cover type + Velcro structure covering the headphone storage system and the interlayer pocket.

The headphone receiver system can easily hang up the usual headphone compartment pockets and put them into public transport card items.




The 2 bags of NO.2 can be placed in mobile phones and some commonly used items.

The left side is arranged with reflective ribbon, pen inserts, D buttons on the lower side, buttons and other key items.




NO.3 mobile phone packages are installed in 2 ways.

It can be hung on the HARDMADE postage bag / waist / waist belt.



Package data and accessories

High 13cm

Wide 10cm

Thick 4cm



Accessories include

HARDMADE mobile phone bag

HARDMADE tag DuPont fabric tag HARDMADE 2014 sticker each

To be customized, hand sprayed logo paper bag packaging.