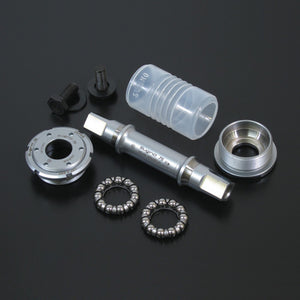 Traditional cup & cone bottom bracket BB-SG75 Standard, with loose ball retainer bearings, used and trusted by many of the professional riders.
The cup & cone style BB are more adjustable (can get a perfect smoothness) and more serviceable, so it can perform its required functions for a long time.
Bearing : Steel balls
Ball Race : Standard
Axle :
"SG75 taper"
Cup Thread : BC1.37x24T
Shell Width : 68mm
As SG75 Series use a proprietary taper called 

"SG75 taper"

, SG75 crank should only be used on SG75 bottom bracket.
For more detailed information, please check ;
"Important Information on SG75 Taper"
Other reco