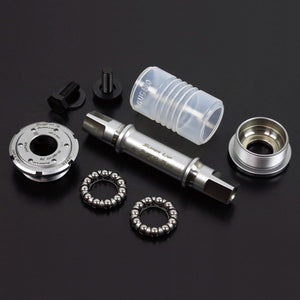 Traditional cup & cone style bottom bracket BB-SG75 Super Lap, with loose ball retainer bearings and special polishing to the races on both spindle and ball cups, used and trusted by many of the professional riders.

The cup & cone style BB are more adjustable (can get a perfect smoothness) and more serviceable, so it can perform its required functions for a long time.

Bearing : Steel balls
Ball Race : Super LAP
Axle :

"SG75 taper"


Cup Thread : BC1.37x24T
Shell Width : 68mm

As SG75 Series use a proprietary taper called

"SG75 taper"

, SG75 crank should only be used on SG75 bottom bracket.
For more detailed information, please check ;
"Important Information on SG75 Taper"
SUPER LAP
Special polishing to the races on spindle and ball cups making them stronger and smoother.